NBI CLEARANCE APPLICATION GUIDE for Work or Travel Abroad – 2022
NBI CLEARANCE APPLICATION 2022
Do you need to get an NBI Clearance for your work requirements? Or do you need it because you will travel abroad and need a SUPPORTING Document for Passport requirements? We have a step-by-step guide to making sure you can get NBI clearance, all you need to do is to follow the instructions below.
NBI CLEARANCE ONLINE APPLICATION FOR 2022 STEP-BY-STEP GUIDE
Register an Account with NBI Clearance Website
NBI Clearance Valid ID Requirements
Schedule an Appointment
NBI Clearance Payment Transaction
Processing
BIOMETRICS AND PHOTO CAPTURE
NBI Clearance Releasing
REGISTER AN ACCOUNT WITH NBI CLEARANCE ONLINE
To start, you need to have an email address to register online and to receive the confirmation and billing of your payment.
STEP 1: REGISTER YOUR EMAIL ADDRESS
Go to https://www.nbi-clearance.com/ click here and register an account using your existing email account or personal email address.
STEP 2: REGISTER AS NEW ACCOUNT FOR NBI CLEARANCE ONLINE
On the register, if you're a new applicant click "NO".
After filling up all the required fields, you can now click the "I ACCEPT TERMS OF SERVICE" to agree to their Terms of Service, then click the "SIGN UP" to go to the next page.
For renewing and still have the old NBI ID number check "YES" then fill up the fields then click "PROCEED" to go to the next page.
OTP – ONE-TIME PASSWORD.
OTP stands for One Time Password, As the words say, meaning you can just use the code at once, and cannot be reused again after 5 minutes.
The NBI Clearance Online are now using OTP to confirm the applicants who register on the website to prove that they are not a robot and to protect the web application.
Your OTP or Time Password will be available on the email or mobile device you used to register with NBI Clearance Online.
If you cannot receive the OTP on your email or text, you can try to re-send again and make sure the mobile number or email you used to register is correct.
Here is the sample of OTP in mobile and email.
STEP 3: APPLICATION INFORMATION
Fill up all the fields of APPLICATION INFORMATION, CONTACT DETAILS, FAMILY BACKGROUND, and OTHER INFORMATION. after filling up the NBI Clearance Application Form, you can now click the "SAVE INFORMATION".
By clicking the "SAVE INFORMATION", it will show the summary of your information and you need to double-check. If one of your information is wrong, you still have a chance to edit by clicking the "EDIT" button.
After editing and checking the summary information, click the "APPLY FOR CLEARANCE" button.
VALID ID REQUIREMENTS NBI CLEARANCE ONLINE
After Clicking the "APPLY FOR CLEARANCE", the new windows will pop up and ask which Valid ID you're presenting during your appointment. You can choose which one you have on the below:
Passport
Voter's ID
Driver's License
SSS ID
PRC License
Philhealth
School ID
Postal ID
GSIS UMID
Tax Identification Number (TIN) ID
Senior Citizen Card
NSO Authenticated Birth Certificate
Alien Certificate of Registration
Copy of Previous NBI Clearance
After entering the valid ID, you can now press the "I Agree" button.
SCHEDULE AN APPOINTMENT FOR NBI CLEARANCE ONLINE
Schedule an appointment, On this page, you can select which NBI Branch you want to request your NBI Clearance. choose the NBI Clearance Branch that is near to you and the most convenient for you.
After selecting the NBI Branch, you can now choose the Date and Time from AM or PM and depending on the available slots.
NBI Clearance Payment Transaction
On the right side of the schedule screen, You can see the amount of your NBI Clearance, Appointment Schedule, and the different types of payment options.
Choose a payment option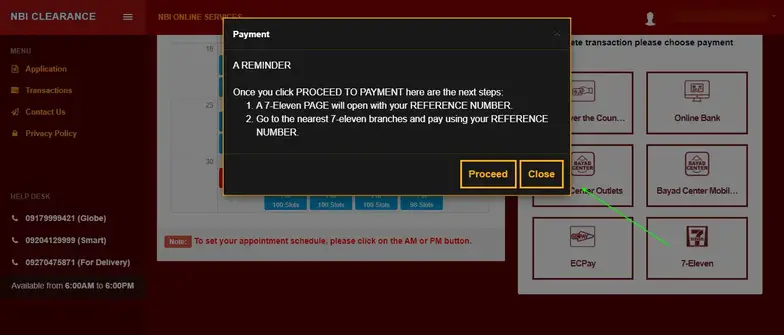 In summary, here are the available payment methods you can choose from:
Bank Over The Counter: Pay cash over the counter to any bank like BDO, Metrobank, Chinabank, Landbank, RCBC, Eastwest Bank, Union Bank, Security Bank, PNB, etc.
Online Bank: Pay the fees through online banking partners such as BDO Internet Banking, BPI Express Online, Unionbank EON, etc.
Bayad Center Outlets: Pay to any Bayad Center outlets or any partner outlets like Cebuana Lhullier, LBC, Villarica Pawnshop, Waltermart, Robinsons, SM Savemore, etc.
Bayad Center Mobile: Pay using the Bayad Center app which you can download via the Google Play Store or the Appstore.
ECPay: Includes all ECPay partners like RD Pawnshop, Petron Corporation, Expresspay Inc., and many others.
7-Eleven: Make the payment by going to any 7-Eleven branch near you.
Visa/Mastercard: A new payment method that enables applicants to pay the NBI clearance fee using their debit/credit card powered by Visa or Mastercard.
GCash: Another newly introduced payment channel, GCash is a mobile wallet that you can install on your phone so you can easily complete payment transactions with just a few clicks.
On the same page (see the previous step), select the payment option you prefer.
As soon as you choose a payment method, a pop-up box will appear to provide instructions on how to pay the fee through the payment channel you've selected.
Click Proceed to go to the next step.
Pay the NBI Clearance fee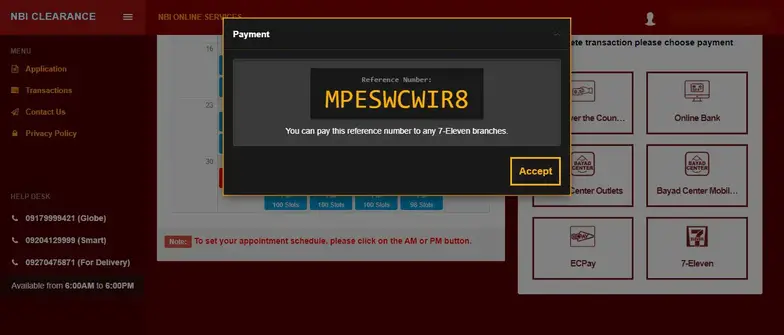 After the previous step, you will then be shown a summary of your transaction, including the NBI clearance fee. As of this writing, a multi-purpose NBI clearance costs Php 130. An additional fee of Php 25 is added for the use of the e-payment service.
Done paying the NBI Clearance on the selected payment option, now check the status of your NBI Clearance online and see if the status is changed from "PENDING" to "PAID".
PROCESSING
For the processing of your NBI Clearance after completing the application form and payments, you just need to do is to wait until the appointment date comes.
When the appointment date comes, to get your NBI Clearance go to the branch you've chosen in your appointment. Don't forget to bring at least Two 2 Valid IDs and bring also your NBI Clearance Online Reference Number and your NBI Clearance Online Payment Receipt and no need to print your NBI Application form.
BIOMETRICS AND PHOTO CAPTURE
When you are in the NBI Branch, ask the NBI personnel that you have an appointment on that day, they will assist you on what to do and follow the instruction for Photo capture and Biometrics.
RELEASING
After you've done photo capture and biometrics, you need to wait until your NBI Clearance is printed and called your name, and given to you.
Congratulations! You have an NBI Clearance and successfully applied.
If you got "hit" (meaning you don't have a namesake who is involved in some suspicious activity), you will be asked to return after a few days so they can clear any anomaly in your application.
How Long Is the Validity Period of NBI Clearance in the Philippines?
The NBI clearance has a validity period of only 1 year from the date of issuance.
FAQs
NBI only accommodates applicants with a valid online appointment. 
NBI can't also process your application through an authorized representative as your latest picture and biometrics are required for their database.
Never go to the NBI Clearance Center on the day of your appointment without bringing valid ID/s. NBI strictly implements a "No ID, No Clearance" policy.
The NBI clearance is not a valid ID for the Philippine passport application. It only serves as a supporting document that you can present to the consular officer for further verification.
Since the new NBI clearance is now "multi-purpose," the green NBI clearance for the purpose of overseas employment or travel abroad no longer exists. The one currently issued can be used for all purposes, whether locally or abroad.
This means all Filipinos or foreigners, regardless of age, can apply for it.
Fresh graduates, specifically first-time job applicants, can now apply for NBI clearance for free. This is thanks to the Republic Act No. 11261 (First Time Job Seekers Assistance Act) signed by President Rodrigo Duterte on April 10, 2019. The NBI Clearance website has been updated recently to accommodate fresh graduates or first-time job seekers who want to avail of the NBI clearance for free. 
Jaywalkers who refuse to settle their penalties will get A "HIT" on their NBI clearance. As part of their effort to prevent the increasing cases of jaywalking that often result in road accidents, the Metropolitan Manila Development Agency (MMDA) revealed that the names of jaywalkers who disregard their tickets will be submitted to the NBI alarm list. To avoid getting a "HIT," jaywalkers who have been apprehended by MMDA should EITHER pay the fine of Php 500 or render community service.
Never deal with fixers, whether online or outside the NBI clearance center premises, who sell "priority numbers" in exchange for an expediting fee. These unscrupulous individuals, who claim to be connected with the NBI, prey on naive applicants who eventually discover that such priority numbers don't exist6, wasting a lot of time and money in the process. Remember, only deal with NBI official or staff wearing their official ID and uniform inside the NBI clearance center premises. In case you've been victimized by one of these fixers, remember that their practices are violating Republic Act No. 9485 or the Anti-Red Tape Act of 2007 and therefore punishable by law. The NBI encourages everyone to report such incidents to their office to prevent others from getting victimized.
ALSO READ: 2022 INTERNATIONAL CERTIFICATE OF VACCINATION ICV (YELLOW CARD) Requirements