Knightsbridge Residences
Knightsbridge Residences is one of the best options if you're looking for a staycation place in Makati. It is located in Poblacion, Makati City. It is one of Metro Manila's most vibrant and dynamic neighborhoods. The first and oldest part of Makati, Poblacion is a popular destination for tourists and locals alike. Its trendy mix of day-shopping bazaars, restaurants, modern cafes, hole-in-the-wall food joints, starving artist tours, bars, nightclubs, and many more, make this a buzzing and distinctly urban oasis.
Knightsbridge Residences is the second residential tower to rise in Century City, an exclusive enclave of luxury skyscrapers in Makati, Philippines. 
KNIGHTSBRIDGE RESIDENCES, Makati Philippines
Knightsbridge Residences was inspired by the finest address in all of England – Knightsbridge, London. Its celebrated residents, impressive property rates, and deluxe shopping district make Knightsbridge a premier international residential address. You can book through AGODA just like we did. The link is available below.
How to go to The Knightsbridge Residences?
The condominium rests only 35 minutes away from Ninoy Aquino International Airport and 30 minutes from the cheerful district of Malate, where even more restaurants can be found and an incomparable sunset can be seen from Manila Bay. The best option is to take a cab or book a grab and tell the driver to drop you off at the Knightsbridge residences in Makati.
This is their reception area.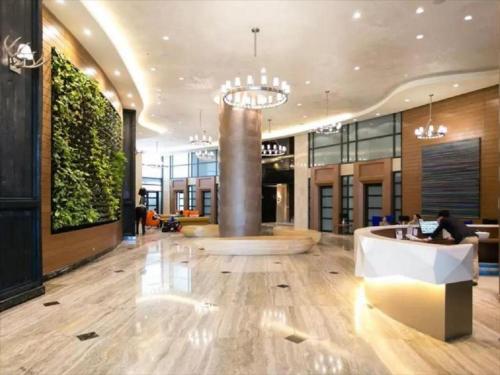 Pool Area
The Arcade
Recreational Room
The Library
The hotel is well-managed and the rooms are clean. Worth every penny. Building amenities are excellent. Its proximity to other establishments is a plus. They are close to the medical center, malls, restaurants, convenience stores, coffee shops, and even 7-Eleven.
Check-in Experience
First impressions last. That's true! The same thing whenever we go for a staycation at any place. For me, if the check-in process sucks. Don't expect me to go back to that place again. The check-in process is one of the factors for me to somehow assess how an establishment treats their guest. So, I am very observant of that.
With Knightsbridge Residences, it was a smooth check-in experience. We just presented our booking details from AGODA and the receptionist assisted us. The lobby is beautifully decorated. Everyone is so friendly and accommodating. A few moments later, they escorted us to our room. Our room was located on the 57th floor of the building.
NOTE: Please prepare a Security Deposit fee of ₱2,000 which is refundable upon check-out. Remember to bring a copy of your IDs that you'll be needing for your building access.
Staycation Review:
It's actually a nice experience and a relaxing one too. We stayed in the room watching TV. Then we went to the pool area for a swim. After that, we cooked our dinner and rest.
Oh have I mentioned that the room we stayed in, has complete kitchen utensils, cookware, and a refrigerator? It's really like a home away from home type. It's a walking distance to Century Mall, where we bought groceries and supplies so we could cook.
My only concern is the parking space. Since it's within Makati where there are a lot of cars, finding a place to park our car is a challenge.
We stayed here twice already. The first is with my sister during our birthday. Then with my parents when they visited here in Manila. Always a great stay.

You could also try Gramercy Residences. Here's our review – Staycation in Makati – Gramercy Residenses + Budget.
If you haven't subscribed to my blog yet, please do so you don't miss any of my posts. And please follow my socials:
Facebook page @Lucidhorizon
Instagram accounts @sayaramae
TikTok shop – @iwearph

Thank you in advance.