How To Set Up Tiktok Shop? Tiktok Seller Center Guide
How To Set Up Tiktok Shop?
As a small business owner, I am so happy that finally, Tiktok opens its platform for us to sell online. And of course, for the buyers to shop on the app directly. convenient right? 🙂
Let me show you how to set up my Tiktok Shop – Iwear Apparel PH.
The registration process in TikTok Shop is very easy. You can sign up with your existing TikTok account, or make a new dedicated account for TikTok Shop.
If you would like to open yours, here's how!
Registration Landing Page 
If you are using Creator Tiktok Account you need to have at least 1,000 followers.
Navigate to PHTikTok Shop Seller Center URL (https://seller-ph.tiktok.com) to register your account. Please make sure the URL is for the Philippine Market. Once your account is registered, the account will be verified as operated in the Philippines only.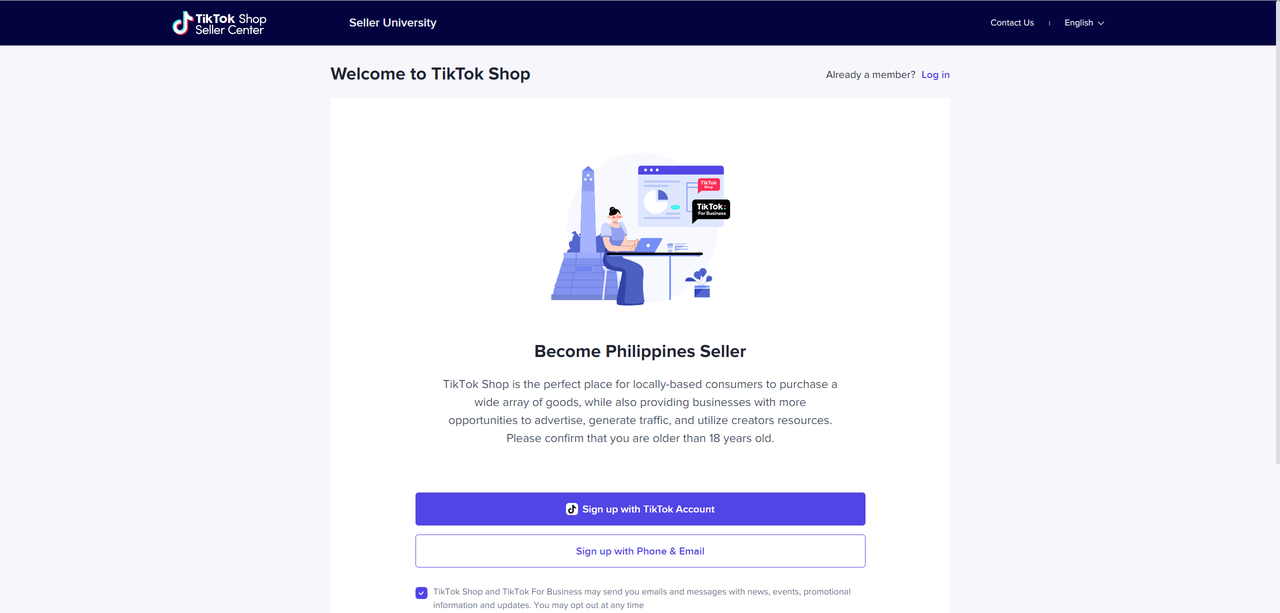 Register with Phone Number & Email
Then, it will ask you for your phone number or email. Please make sure to use those you have access to. That is because to ensure your account's security, they will verify it to make sure it is really you who created the account.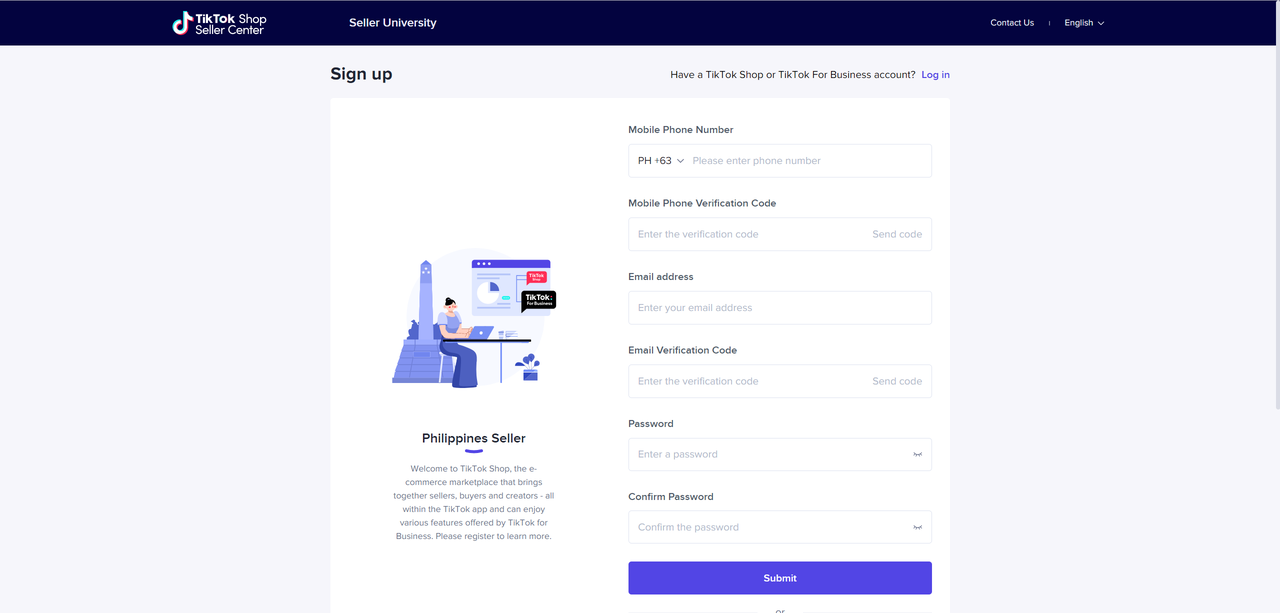 Set Shop Contact Information
After account registration, you can now click "Start Selling".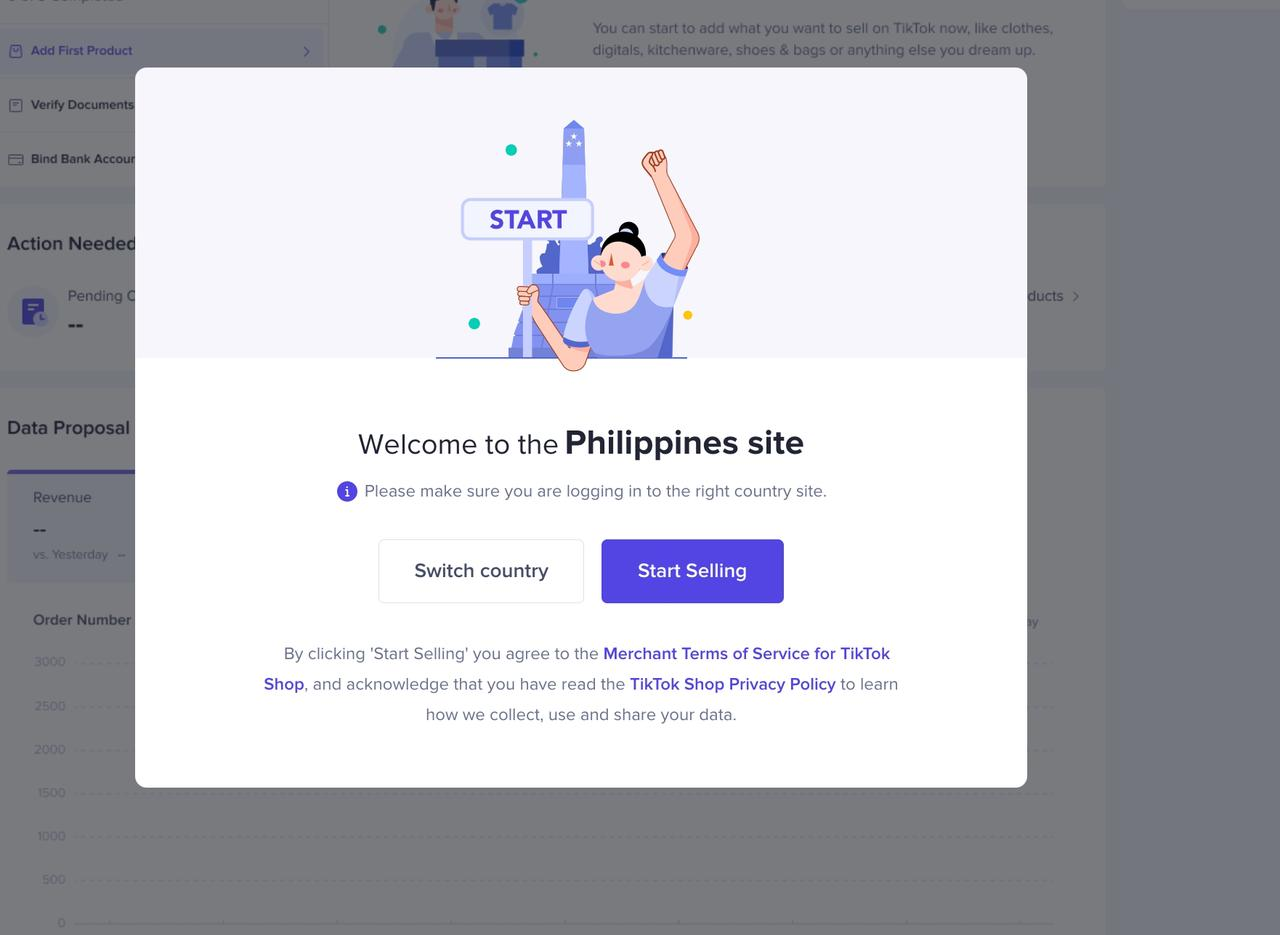 Let's Start Your Business!
In order to start selling, you will need to complete the 3 following items:

Verify Documents
Every corporation or individual who conducted business on TikTok Shop must have their company or personal information verified.
I used Individual for my own shop.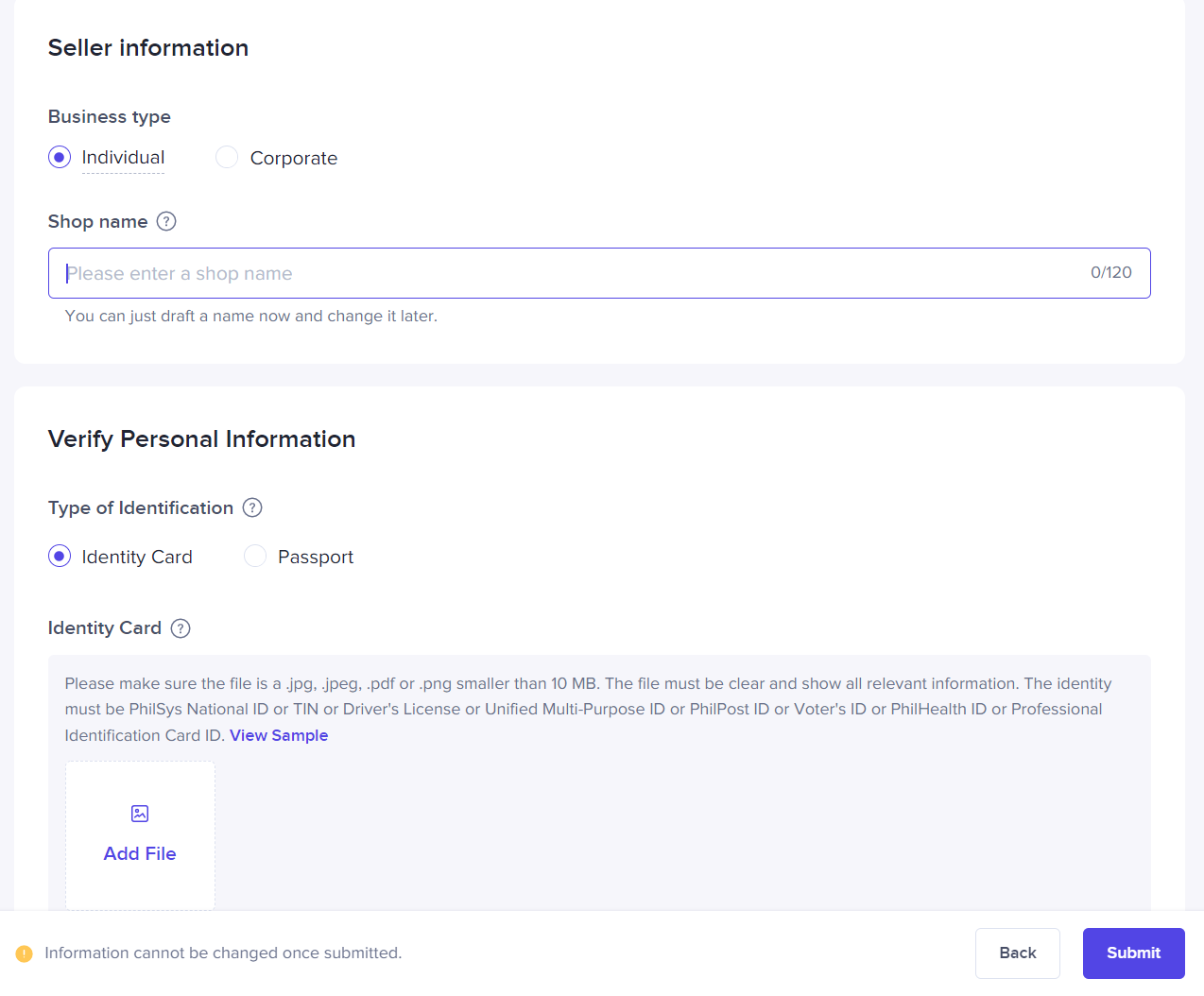 For Individuals, the document needed is a scanned copy of PhilSys National ID or TIN or Driver's License or Unified Multi-Purpose ID or PhilPost ID or Voter's ID or PhilHealth ID or Professional Identification Card ID or Passport.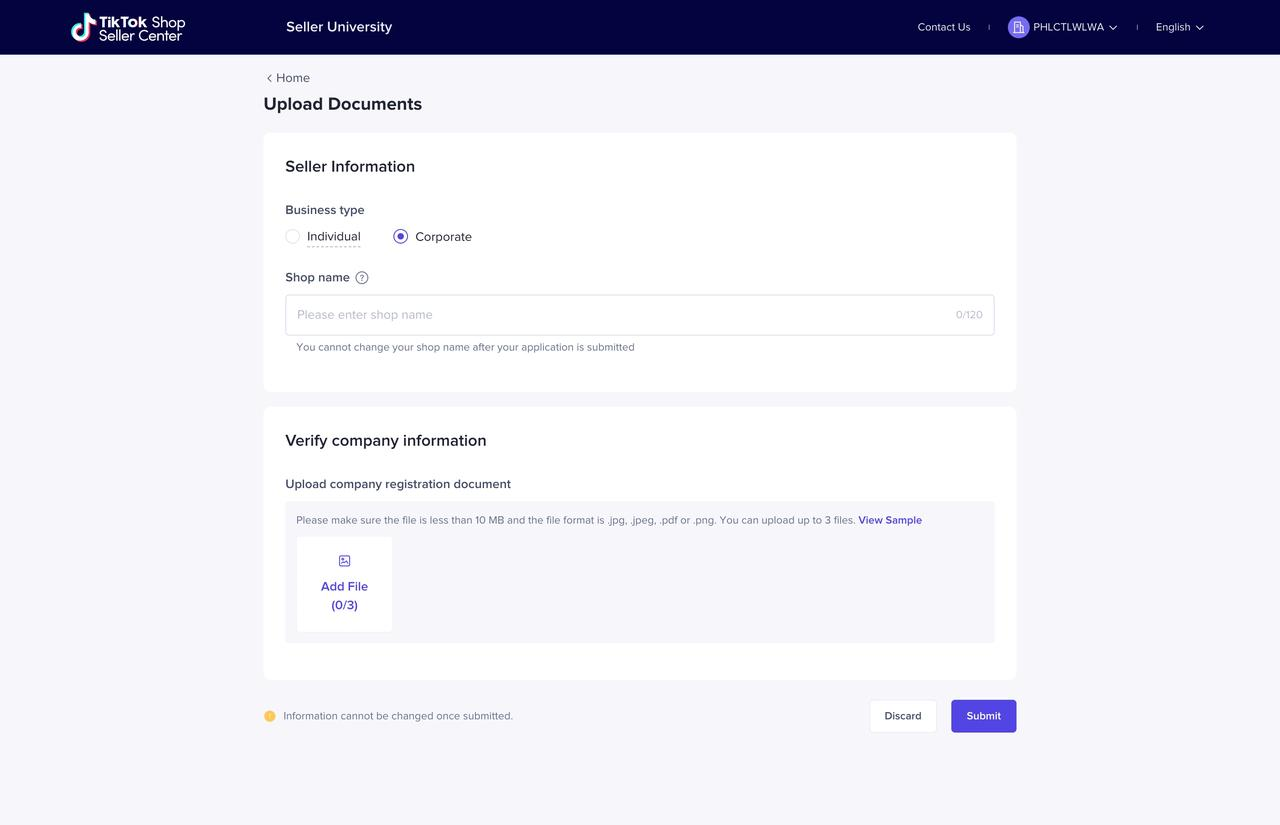 For Corporate, the document needed is a scanned copy of the business registration document. Both SEC and DTI certifications are acceptable.
Important:
•​Company or personal information cannot be changed after being submitted. Please make sure the documents are filled and uploaded correctly upon submission. 
•​Company or personal information submitted will be shown on your TikTok Shop Seller profile.
Add First Product
And now for the most exciting part, add your first product to TikTok Shop by clicking the "Add Product" button. 
Important: Product that has been added to TikTok Shop will not be visible until document verification is completed.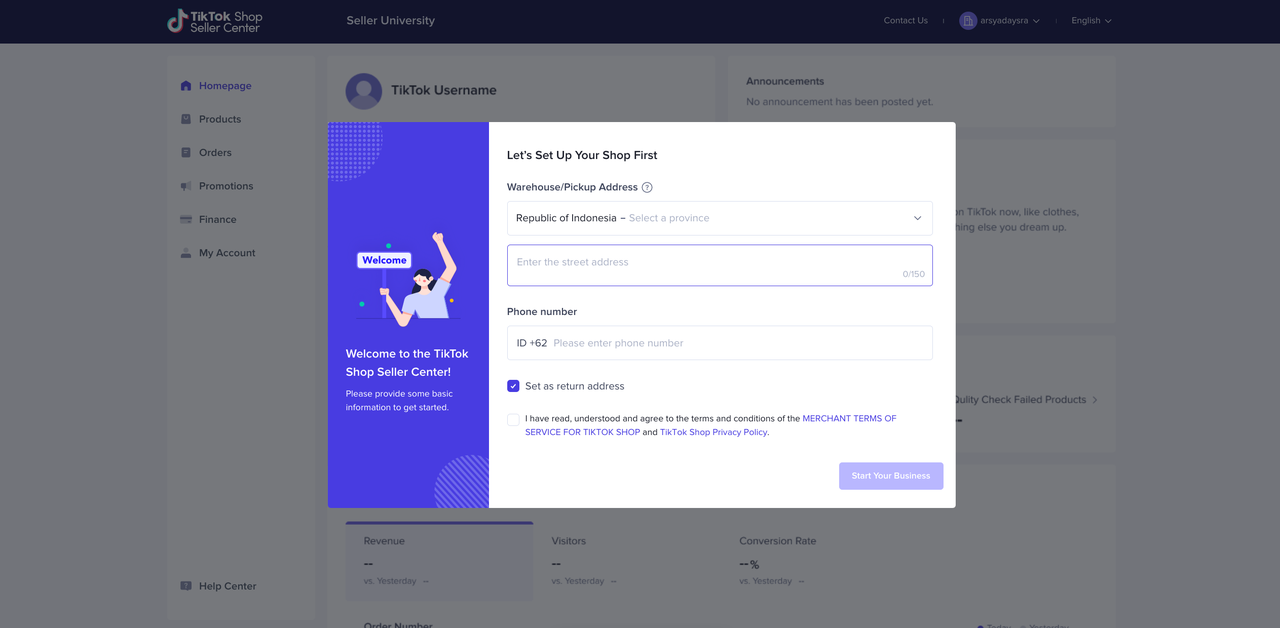 ​The first time adding the shop's product, please fill out your shop warehouse pickup address and phone number to ensure the logistics service runs smoothly. You can set your return address to be the same as pick-up address, or you can fill in a different address. 
Provide your Bank Account
Lastly, you need to provide your bank account for payments. Click "My Account" > Seller Profile > "Payments" tab
That's it, guys! Happy selling!
Please visit our Tiktok Shop at Iwear Apparel PH using this link https://www.tiktok.com/@iwearph
You can also visit Tiktik Seller University for more details.
ALSO READ: How To Start Selling on Shopee? SHOPEE SELLER CENTER