How To Get NSO Birth Certificate Online
How To Get NSO Birth Certificate Online
I am sharing with you the process of getting your NSO Birth Certificate online. I got mine delivered yesterday, so I thought of writing a blog in case, you are like me who for safety purposes looking for ways how to get stuff online. 🙂
It used to take almost a whole day of queueing to get ahold of your birth certificate, but now you can get your NSO birth certificate online. Here's a step-by-step guide (including screenshots) on how to do it:
How To Get NSO Birth Certificate Online
PSASerbilis is an online portal where you can order a birth certificate and have it delivered to the Philippines or anywhere in the world. Here's how to obtain your birth certificate through this website: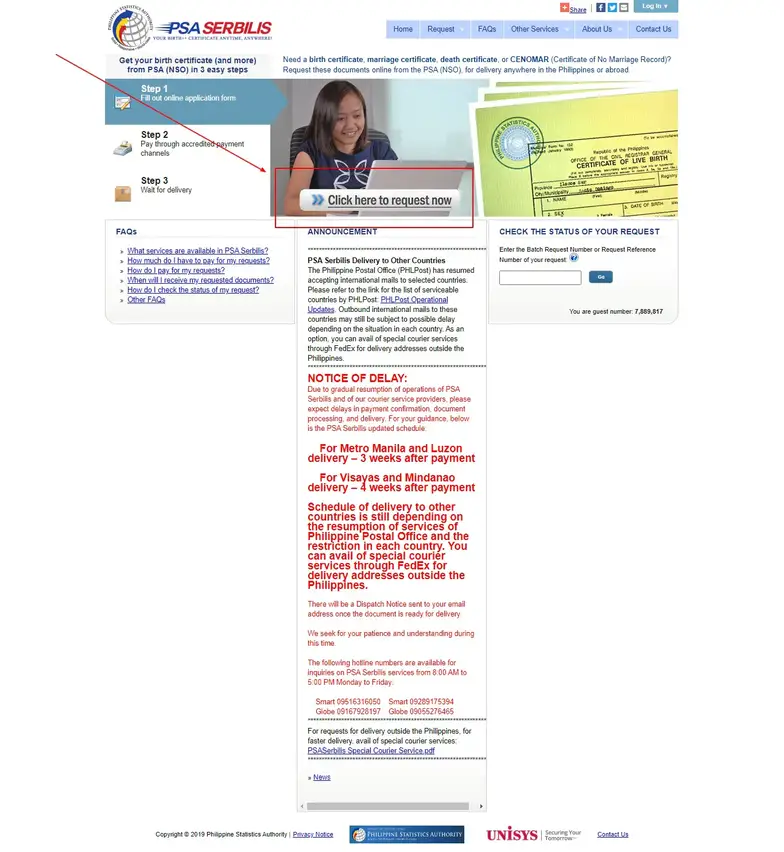 https://910671b1ecbcc603f2af405e91ca15dd.safeframe.googlesyndication.com/safeframe/1-0-38/html/container.htmlOn the homepage, click the button that says Click here to request now.
Accept terms and conditions and go to the next page.
2. Enter the requested information in the Contact and Delivery Information form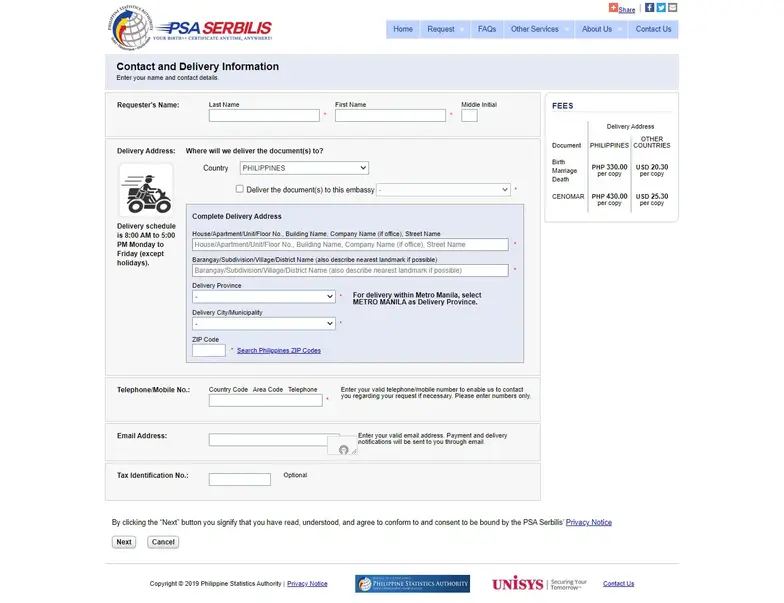 These include the following:
Requester's Name (Last Name, First Name, Middle Initial);
Delivery Address (You can choose to send the birth certificate either to a specific address in the Philippines or anywhere in the world. There's also an option to send the requested document to a foreign embassy in Manila);
Telephone/Mobile Number;
Email address; and
Tax Identification Number (optional).
When done, click Next. A box will then appear on the screen asking you to confirm whether the information you've just provided is correct. If you're sure about their accuracy, click Confirm.
3. Select Birth Certificate to start making a request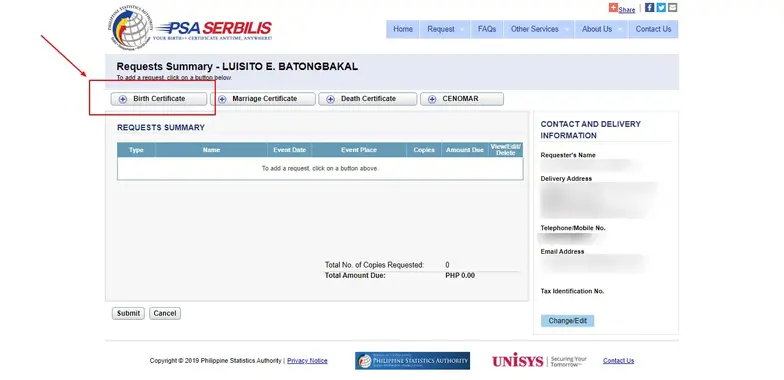 On the next page, you will be asked two questions regarding your birth certificate. Respond with a Yes or No and click Next.
4. Fill out the online application form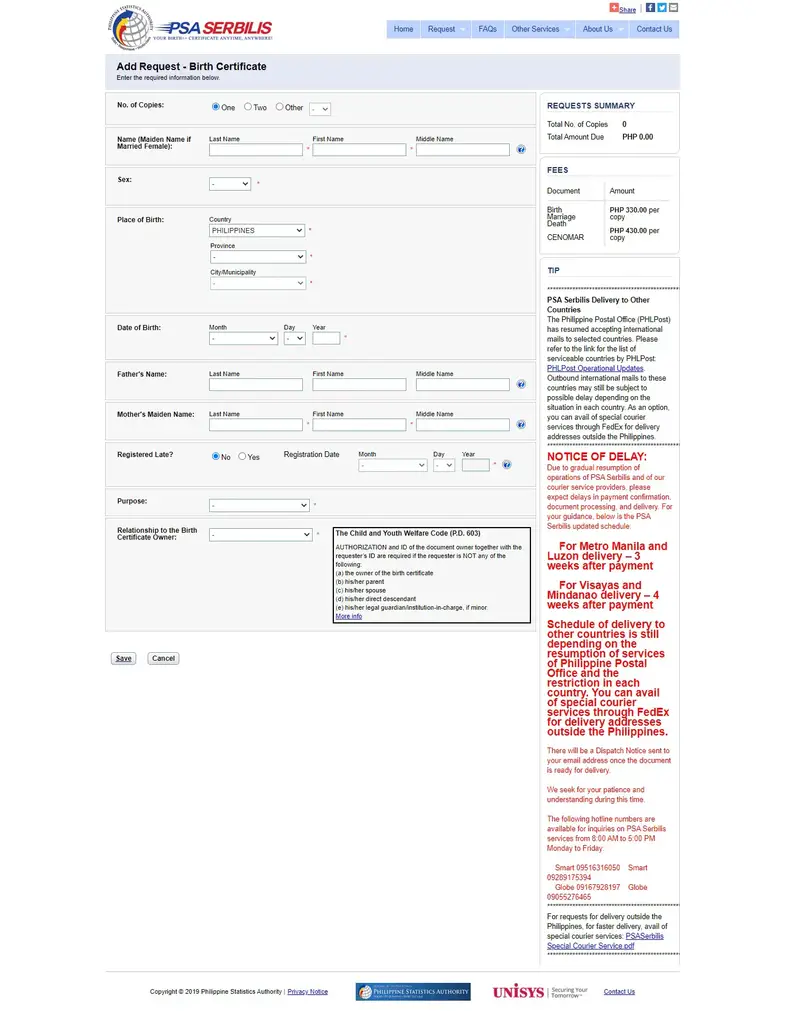 Enter all the requested information accurately. Failure to provide the correct information will result in negative results.
Things to remember:
*If you're a married woman, only use your maiden name.
*When writing names, please don't use characters other than letters, numbers, hyphens, single quotes, and Ñ.
*If you have a name suffix like "Jr," "Sr," or "III," put it in the First Name field. Don't put a period after the name suffix or else you'll encounter an error.
*For those with surnames starting with "De," "De La," "Del," or "De Los," enter these in the Last Name field. Only use "De La" or "De Los" (with space) instead of "Dela" or "Delos."
*If you're requesting a birth certificate for another person, indicate at the last part your relationship with him/her. To claim the document, representatives need to present their valid IDs as well as ID and authorization letter of the birth certificate owner, except if you're one of the following: The owner of the birth certificate, his/her parent, his/her spouse, his/her direct descendant, or his/her legal guardian or institution-in-charge, if minor.
Once done, click "Save."
A box will then appear asking you to confirm the accuracy of the information you've just provided. Double-check every detail. If you're sure all are correct, click Confirm.
5. If you're requesting another civil registry document or another birth certificate, add another request by clicking the appropriate button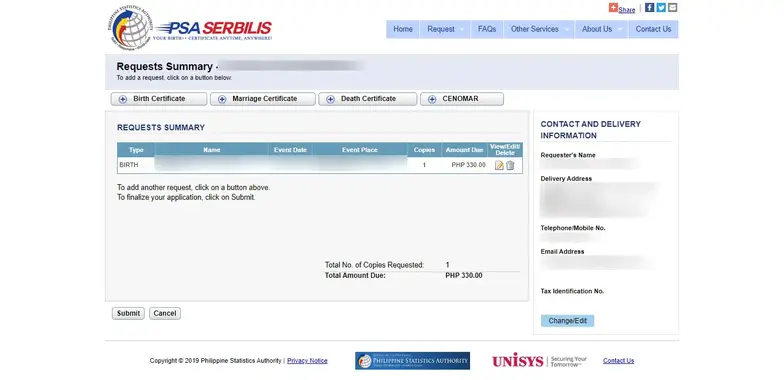 Otherwise, click the Submit button.
6. Print the acknowledgment page and pay the birth certificate fee either over the counter in designated banks or via online payment channels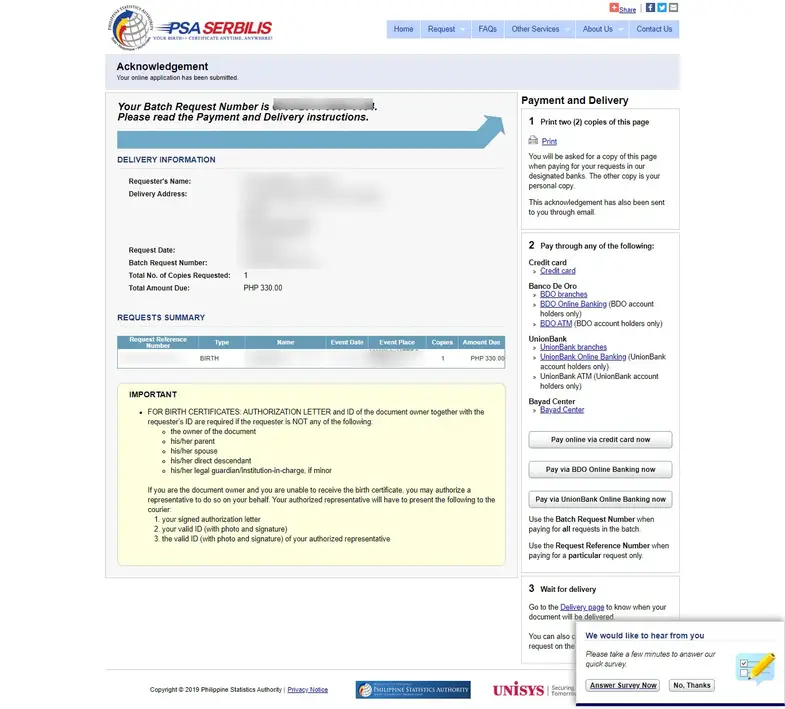 If you prefer to pay over the counter, you need to print two copies of the Acknowledgment page–one for you and another copy for the bank where you'll make the payment. A copy of this page will also be sent to your email.
As of this writing, birth certificates that are processed online have the following fees:
Delivery within the Philippines: Php 330 per copy
Delivery to other countries: USD 20.30 per copy
The above fees are inclusive of processing, delivery, and government taxes.
Payments can be done through the following:
1. Philippines:
Credit Card
BDO (BDO branches; for BDO account holders: BDO Online Banking or BDO ATM)
UnionBank (UnionBank branches; for Unionbank account holders: UnionBank Online Banking or Unionbank ATM)
Bayad Center
2. Other countries:
Credit card
Foreign correspondent banks
BDO Remit subsidiary offices and remittance partners abroad offering Kabayan Bills Bayad
7. Wait for delivery
How quickly the birth certificate will be delivered to you depends on your delivery address:
Metro Manila: 3-5 working days after payment.
Other cities/provinces in the Philippines: 4-9 working days after payment.
Other countries: 6-8 weeks after payment.
If you want to expedite the process and get the birth certificate delivered within 1 to 2 days after payment, I suggest the following:
If you're in the Philippines, apply in person at the nearest Census Serbilis Center.
If abroad, you can avail of e-Census Special Courier Service.
The delivery schedule is from 8 A.M. to 5 P.M., Monday to Friday (except holidays).