Hong Kong Airport to Tsim Sha Tsui
Tsim Sha Tsui, or simply "TST" has a multitude of accommodation options for both luxury travelers and those on a budget. It is also a major tourist hub being the home of well-known shopping brands, and famous attractions in Hong Kong like the Avenue of Star.
Getting to the city center from the airport is not too complicated because there are many transportation options. Here are the best ways to travel from Hong Kong International Airport to Tsim Sha Tsui.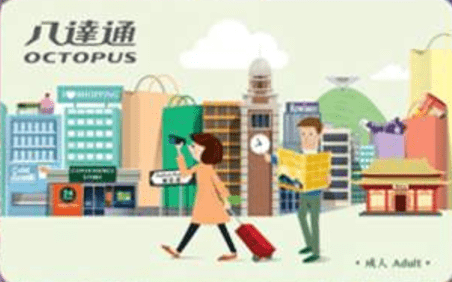 First, I recommend that you get an OCTOPUS CARD which you can use when riding the MTR and buses. This will allow you to skip buying tickets each time you're taking the train or the bus. You can purchase the ticket straight from the Airport Ground Transportation Centre ticket booth located at the airport's Arrival Hall or from the ticket machines. The standard Octopus Card costs HK$100 for adults and HK$50 for kids. A HK$50 deposit is required but refundable when you surrender the card at the end of your trip.
Pro-money-saving tip: If you don't think you'd be able to return the card (thereby letting go of your deposit), you can buy an Octopus TOURIST Card via Klook instead. The Octopus Tourist Card already comes with a HK$50 load, and you can top it up in case it runs short. You can also take home the card as a souvenir as I did. 😎
Hong Kong Airport to Tsim Sha Tsui – By Train
Take the Airport Express train to Kowloon Station.
From Kowloon Station, take the MTR to get to your hotel in Tsim Sha Tsui. Alternative route: Airport Express + MTR Airport Station > Hong Kong Station > Tsim Sha Tsui Station (~45 minutes/PHP676.92 *)
The Airport Express provides a free shuttle bus service from Kowloon Station to major hotels around Kowloon including Tsim Sha Tsui. Check the closest hotel stop from your destination on the MTR website.
If you will ride a lot of MTR or bus rides, it might be wiser to just purchase an Airport Express Travel Pass. With this pass, you can use the Airport Express only ONCE or TWICE, depending on the type you purchased. But it will also give you UNLIMITED access to the MTR system for 3 days. Note that only the MTR is unlimited, not the airport express.
What if the 3-day period has elapsed and you still have an unused Airport Express ride? Well, you can still use it. If your trip is longer than 3 days, you can still take the Airport Express even after the Unlimited MTR access has expired. For example, if your trip is 5 days and you get the HK$350 package, you can use the Airport Express Ride on Day 1, use unlimited MTR rides on Days 2-4, and then the remaining Airport Express ride on your way back to the airport on Day 5. You can also reload the card after 3 days if you want to use it even after the 3-day period has expired.
This can mean a lot of savings if you have a pretty hectic itinerary.
Hong Kong Airport to Tsim Sha Tsui – By Bus
This is what we always do every time we visit Hoong Kong. We use our Octopus card for bus rides. Airport > Tsim Sha Tsui (70~90 minutes/PHP232.69 *)
At the airport, go to the Airport Ground Transportation Centre, which is located right in front of the airport building.
Go to A21 Bus Stop. The platforms are marked appropriately. Just look for the signs. A21 bus service operates from 6 AM to 12 AM. If you arrived at the airport before 12 midnight, you can take the N21 Buses (HK$ 23) which run from 12:20 AM until 5 AM.
Pay for your ticket/fare. They don't have change so make sure you have the exact amount if you will pay using cash. Or tap your Octopus Card upon boarding if you have one.
Alight at the stop nearest your hotel. Stop 13 (Cameron Road corner Nathan Road) is the popular stop because it is in the district's center. Stop 14 (Middle Road corner Nathan Road) is also part of Tsim Sha Tsui so it can be an option too.
Travel Time: 1 hour to 1.5 hours, depending on the traffic.
Experience real convenience to and from Hong Kong International Airport (HKG) by booking our private transfers.
If you have questions let me know in the comment section below.
You might want to read: Must Visit Tourist Spots in HONG KONG
If you haven't subscribed to my blog yet, please do so you don't miss any of my posts. And please follow my socials:
Facebook page @Lucidhorizon
Instagram accounts @sayaramae
TikTok shop – @iwearph

Thank you in advance.