DUMAGUETE TRAVEL GUIDE: DIY Itinerary
DUMAGUETE, also known as the "City of Gentle People" is the gateway to the many wonders of the province of Negros Oriental. It has been a popular destination for tourists because there are so many things to do and see here – from the famous snorkeling and scuba diving in Apo Island, mountain trekking in Mt. Talinis and Mt. Kanlaon, to the refreshingly cool waters of Casaroro Falls and Pulangbato Falls. So here is my Dumaguete Travel Guide to help you plan your visit that suits your interests best.
DUMAGUETE TRAVEL GUIDE
WHERE TO STAY IN DUMAGUETE
One of the first things you should consider is where you are staying. There are plenty of options that are budget-friendly. But personally, I would suggest staying in the downtown area for easy access to transport and dining options.
We stayed at Go Hotels because it's within the city proper.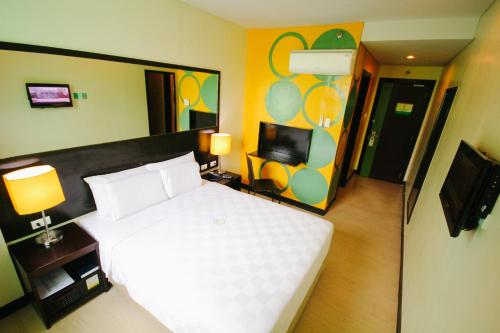 Here are the best-rated accommodations that you can find.
HOW TO GO TO DUMAGUETE
Here are options to get to Dumaguete.
By Air
To most convenient way to get to Dumaguete from Manila is via a direct flight from Manila to Dumaguete. Flight time is 1 hour and 30 minutes from NAIA to Sibulan Airport (Dumaguete Airport). From the airport, hire a tricycle to the city proper. Approximately 10 minutes.
By Land
From Bacolod – go to the South Bus terminal at Lopez Jaena st. and take a bus en route to Dumaguete which goes on an hourly basis. Travel time is 5 to 6 hours depending on the traffic situation, bus fare is roughly P290.
From Cebu – go to Cebu South Bus Terminal going to Dumaguete. Bus Fare is P250.
By Sea
Sometimes, airfare to Dumaguete is expensive. One option is to fly to Cebu and ride a ferry to Dumaguete. There are more flight options to and from Cebu. Plus the ticket is cheaper. There are a number of ferry operators that travel to Dumaguete from these destinations.
Bohol via Tagbilaran
Cebu via Santander
Dipolog
Siquijor
Zamboanga via Dapitan
---
Dumaguete has that laid-back kind of vibe. It's very peaceful here. No wonder why there are people who choose to retire here. We arrived past 7 am at Sibulan Airport. Outside the airport, we noticed a lot of van drivers and tricycle drivers waiting and offering tour packages. They have laminated pictures of tourist spots included on the tour. It's a great option for those who travel in groups and those that don't have an itinerary yet.
We took a tricycle going to our accommodation at Go Hotels. Since we already had our breakfast at the airport, we just settled our stuff and freshen up so we can start our adventure. The first stop is the waterfalls.
DAY 1 – CASARORO FALLS + PULANGBATO FALLS
CASARORO FALLS
Just 20 minutes from Dumaguete City is Casaroro Falls. The lady from the reception of the hotel we are staying is very kind to inform us where and how to go to the places we wanted to visit. Very kind of her. We did it DIY style but there are other options if you want. From Dumaguete, we catch a multi-cab heading to Valencia, near the public market. We inform the driver that we are going to Casaroro Falls and he drops us off where we can get a habal-habal going to the jump off of Casaroro Falls.
Going to Casaroro Falls includes at least 30 minutes of hiking depending on your pace. It was worth it because when we arrived, we were rewarded by this incredible single-drop waterfall where the cascading waters create a mist around its deep and cold natural pool. It was so enthrallingly high standing at around 100 feet, Casaroro Falls is indeed a cradle to a gem with an irresistible charm.
For more details, I have a separate blog regarding that – CASARORO FALLS in Valencia, Negros Oriental – Travel Guide
PULANGBATO FALLS and Sulfur Vent Highway or Smoky Mountain
From Casaroro Falls we head to another fall – which is Pulangbato Falls. his waterfall was named after the reddish-orange color of the rocks around the falls from the presence of sulfur deposits in the water. You'll immediately understand why they called it Pulang (red) bato (rock). But don't worry, the water is totally safe for bathing!
On our way to the falls, our attention got caught by these unique geothermal vents releasing sulphuric smoke into the air. Situated on the side of the road is what they call Sulfur Vent Highway or Smoky Mountain because of the repulsive odor it spread to the air.
For more details, I have a separate blog regarding that – PULANGBATO FALLS near Dumaguete – The Red Waterfalls in Valencia Negros Oriental
As I mentioned earlier, we did this tour DIY style. It was fun but requires a lot of effort and patience in getting a ride from one place to another. Definitely, an experience for us. If you are traveling in a group, much better if you'll rent a car or book a tour for a more hassle-free and convenient way of visiting these tourist spots.
We end our day by dining in at th
DAY 2 – Manjuyod White Sandbar + Dumaguete City Tour
MANJUYOD SANDBAR
We woke up early the next day because the travel time from Dumaguete to Bais is 1.5 hours. You can book a tour via Klook using the link below.
I am so excited to see what they call the " Maldives of the Philippines". A boatman serves as our guide in going to Manjuyod White Sandbar, where we swim, sunbathe, do some snorkeling and just chill out. It is also important to note that the best time to visit is at low tide when the water has receded enough to bring out the sandbar. It disappears during high tide. One effective way you can easily offset this hurdle is to refer to a weather forecast when planning for a visit.
Shortly after noon, we hopped back to the boat for lunch and cruise back to Bais. To be honest, this is the time I have thought maybe it's better to book a tour because you can just hop on your tour ride going back to Dumaguete comfortably. But for us, we need to find a ride back during this time when I have drained my energy battery already.
For more details, I have a separate blog regarding that – MANJUYOD SANDBAR Travel Guide – The Maldives of the Philippines
DUMAGUETE CITY TOUR
We head back to our hotel first to take a little rest and freshen up. From our hotel, we took a tricycle going to Silliman University. The fare is Php 10.
Silliman University – One of the famous landmarks of Dumaguete City is Silliman University. The foremost and oldest American university in the country. The campus is a unique mixture of colonial American and modern Filipino.
Dumaguete Boulevard – One of the most popular sites in Dumaguete City is the Boulevard or the Rizal Boulevard, which was made after the Philippine National Hero, Dr. Jose P. Rizal. This is a popular place to hang out during the day and night in Dumaguete. During the day many people take slow strolls down the sidewalk, sit on the benches, or hang out under the huge trees to relax and enjoy the soft breeze as they look out over the bay. At night this turns into a street food lane – a great place to try some local favorites while enjoying the ocean view. This is where we ate dinner before calling it a night.
DAY 3 – SIQUIJOR DAY TOUR
Siquijor Island is just a ferry away from Dumaguete. We spent a whole day on the island. For more details, I have a separate blog regarding that – Siquijor Day Tour DIY Itinerary + Expenses
DAY 3 – APO ISLAND
One of the many jewels of the Philippines when it comes to snorkeling and diving is Apo Island. It is known as the best place in the Philippines to swim with sea turtles. This is because Apo Island is a marine sanctuary with strictly enforced environmental protection; there is a PHP 5000/USD 100 fine for touching marine life or taking away any coral. Due to this protection, there is a thriving coral reef with 600 species of fish and a lot of sea turtles; you will definitely see them up close and personal.
The best way of getting there is to reserve a spot at Klook like what we did.
MUST TRY RESTAURANTS IN DUMAGUETE CITY
There are many places in the city to dine and enjoy great international and local dishes. Aside from the local street foods to try on Rizal Boulevard here are some of the restaurants I am recommending for you to try.
Gabby's Bistro
They have good food and ambiance. Really a must-try when you are in Dumaguete. From our hotel, we took a tricycle going here for Php 15 each.
Mooon Cafe
Just along Siliman Avenue, we found this Mexican-inspired restaurant called Mooon Cafe.
Silvanas from Sans Rival Bakery
Before going back to Manila we made sure to order the famous Silvanas from Sans Rival Bakery. The place is just along Rizal Boulevard.
That's a wrap! If you have questions please let me know in the comment section below.
WHAT TO BRING TO DUMAGUETE
Prepare for your trip with our must-have travel essentials.
Waterproof backpack & phone case: Dry Bag (2L 3L 5L 10L) Ocean Pack Waterproof Bag and Universal Waterproof Glow Dark Case for Mobile Phone Pouch
Quick dry microfiber travel towel: Naturehike Quick Drying Pocket Bath Towel
Action camera: KIMSTORE GoPro Hero 11 – Black Aqua Shoes: Aqua shoes Summer Unisex No-Slip Prevention Rubber Beach Shoes Men & Women
Aqua Shoes: Aqua shoes Summer Unisex No-Slip Prevention Rubber Beach Shoes Men & Women
Rash Guard: rash guard for men and Rash Guard for women
If you have questions please let me know in the comment section below.
You may also check our MANJUYOD SANDBAR Travel Guide – The Maldives of the Philippines
If you haven't subscribed to my blog yet, please do so you don't miss any of my posts. And please follow my socials:
Facebook page @Lucidhorizon
Instagram accounts @sayaramae
TikTok shop – @iwearph

Thank you in advance.